Customize your leather apron
A leather Xapron apron is always equipped with sturdy adjustable straps in the neck and in the hip, a simple buckle closure and a handy leather strap for your tea towel, for example. But… a leather apron can be just as different as the owners who wear them. At Xapron we have a large number of accessories that you can choose from to fine-tune your apron to your liking.
Extra storage space
For example, we have various extra pockets, which we can make from the same leather type and color as the apron itself. We then stitch this directly onto the apron in a place of your choice. Ideal for storing small items such as your phone, your keys, notepads, but also herbs, spatulas and so on. It keeps your belongings safe, organized and always within reach. Handy if you want to have your hands free when you are busy cooking and seasoning your meat perfectly. All focus on your creations and no fiddling with loose items.
Not sure about an extra pocket on your leather apron? Then choose a waiter holder. You then enjoy the advantage of extra storage space, but you have the choice of clicking on or off the pocket holder by means of a system with push buttons. This is the same system as the scissors holders that we offer in 2 different colors of leather.
In addition to an extra pocket on your apron, there are countless other options to upgrade your apron. Choose a bottle holster to have your hands free and your beer close by. Or have a metal ring stitched on it to hang your keys, your tea towel or your favorite BBQ tools.
Below is a picture of all available pockets and how they fit on the apron in terms of size.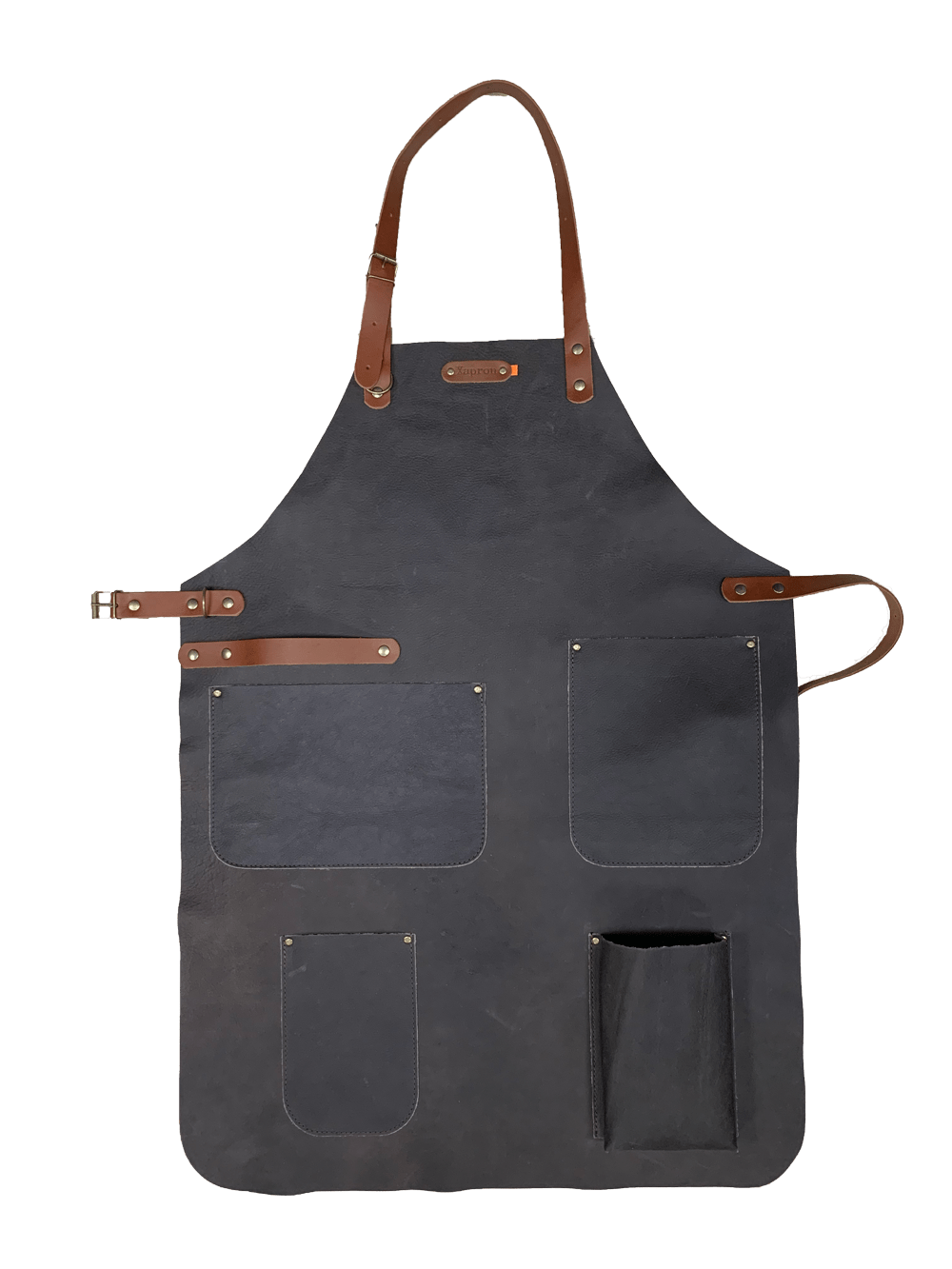 Order your apron accessories online
You can easily order the desired accessories online via our webshop. After you have made the choice for a leather apron, you can view all options via this page. Are you unsure about anything? Please feel free to contact us so that we can advise you.
Extra delivery time
Please note that we design and handcraft customized items especially for you. To avoid disappointment, we charge an additional delivery time of 2-5 working days. Take this into account when ordering. We understand that you want to enjoy your leather apron as soon as possible and always do our utmost to send your order to you as soon as possible.
Returns
It is not possible to exchange customized items, especially the pockets and metal rings that we stitch onto the apron. With the exception of a production error that went unnoticed, of course. Loose accessories such as a bottle holster, a scissors holder or a pocket holder can be detached or attached to the apron by hand and can therefore always be exchanged.