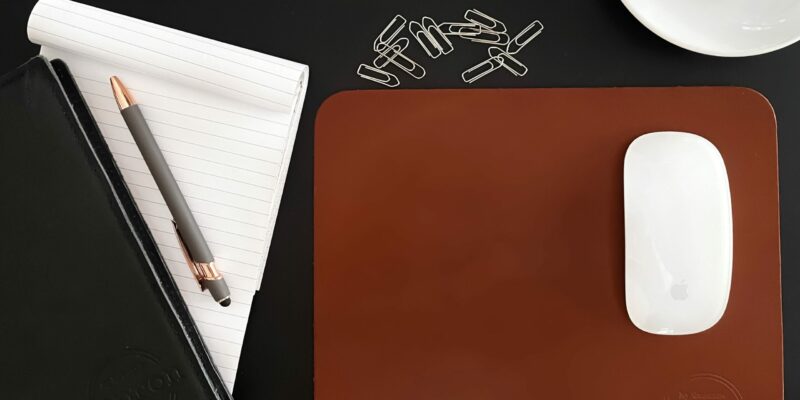 Lifestyle
At Xapron we have a passion for making artisan leather products. We also have leather lifestyle products in our collection. These handmade products are created to give a luxurious atmosphere to your (home) office. Our lifestyle collection contains three products in different colors and sizes: leather notebooks, leather mouse pads and leather desk pads.
Our leather lifestyle accessories are useful, stylish and made of sturdy durable leather. You can complete your workplace with the leather notebooks, leather mouse pads and leather desk pads.
Buy Desk Accessories
You want to be able to sit comfortably at your desk and be able to concentrate well. But of course, this doesn't mean it has to be a boring place. Because only a computer screen, a keyboard, and a mouse, that seems quite a boring sight to us. By using a few nice desk accessories, you can easily turn your workplace into a nice, luxurious, and stylish work environment. Not only is it an eye-catcher, but the lifestyle accessories also increase your efficiency.
Leather Notebook
A notebook is an indispensable item for many people. Whether you use it to make to-do lists, write down your deepest secrets or just take notes, a notebook always comes in handy. The leather notebooks from Xapron are handmade and therefore a true masterpiece. You can use this leather notebook for many years. The leather cover is made of high-quality Bovine full grain leather and therefore lasts a long time. The great thing about this leather notebook is that you can easily put a new insert in it when the first one is full.
Leather Mouse Pad
If you spend a lot of time in front of your computer, it is useful to have a good mouse pad at home. At Xapron we have beautiful leather mouse pads in our collection. These handmade leather mouse pads have perfect tracking properties for your mouse, allowing you to work easily and quickly. Because the leather mouse pad is made of sturdy buffalo leather, your mouse pad will last for years, and it also looks luxurious and stylish!
Leather Desk Pad
Desk pads are perhaps the most underrated desk accessories, while it brings a lot of benefits. The desk pads from Xapron are made of high-quality leather. The leather desk pad is made to protect your table or desk. You can also use it as a mouse pad, because the leather has perfect tracking properties for your mouse. In addition, they are businesslike, modern, and sustainable. Transform your boring desk into an elegant workplace in no time!