Placemat Bovine – Set 4 pieces
€ 64,95 incl. BTW
Description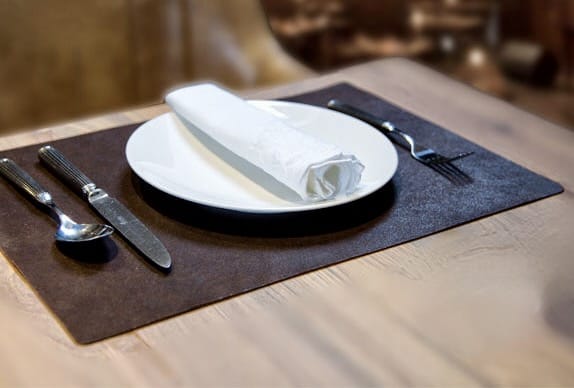 Description
Protect your table and dine in style with a bold new accessory: leather placemats.
In the first place the Bovine Leather Placemats are extra oiled, made from a  full-grain buffalo leather. In addition the placemats are handmade in the Netherlands coupled with the leather coming from Italy, this makes it an uniquely product. Not to mention they give you an instant beautiful table decoration for inside and not only, but also for outside. Of course you can now provide a nice eye-catcher on the table with these Bovine leather place mats. And equally important you can use them together in  combination  with our leather coasters and napkin rings in different qualities and colours too.
In addition the Bovine leather has a slight texture and therefor makes it look and feel very sophisticated and chic yet cool and funky. 
Our tip: you can also use the leather napkin rings as an egg holder in the morning at the breakfast table.
Product information
Handmade in the Netherlands (Waalwijk)
100% top quality, full grain buffalo leather
The leather placemats have a thickness of 2 mm
Adheres easily to the surface due to the weight of the leather.
Rounded corners
The placemats come in a set of 4 of the same colour.
Size
The size of the leather place mat is 43 x 30 cm. The thickness of the place mat is 2 mm.
Maintenance
Thanks to the nature of  leather, the place mat is water-repellent and maintenance-free. Is there a stain? Then you can easily clean it with a damp cloth. It's also good for maintenance to sometimes buff the placemats with a special leather care product.   Due to the weight of the leather, the place mat easily adheres to the surface. No more hassle with sliding place mats.