10 tips to keep your leather apron beautiful
Do you have a leather apron from Xapron? We love them too. Our aprons are timeless and can last for years due to the quality. We'll give you some tips to really get the best out of your apron!
You probably use the apron the most during baking and roasting, behind the stove or the BBQ, or maybe for professional use. The longer you wear the apron, the more it becomes a kind of second skin, so take care of your apron because your apron takes care of you …
Maintenance tips
It is recommended to thoroughly spray your apron before wearing it with a stain and water-repellent colorless leather spray for better protection against dirt and water. This is not entirely necessary, but it will protect the apron better against stains

Never hang the apron in full sun as the leather may discolor
If the apron has become wet, let it dry at room temperature away from direct sunlight and heat
You can treat dried drops and other light spots with a fine soft brush or leather sponge. Heavier stains should be treated with a dry foam leather soap. The spots can also often disappear by rubbing the leather together or using a damp cloth.
After cleaning and drying you can spray the apron again.
Never treat stains with corrosive agents such as gasoline or acetone, as this can damage the leather.
Stiffened leather becomes supple again by treating it with leather spray.
Greasy edges, as well as light spots, can be carefully removed with a suede sandstone.
Your apron should only be professionally cleaned by a good leather cleaning specialist.
Remember that wearing a leather apron often only makes it more beautiful. Have fun with it!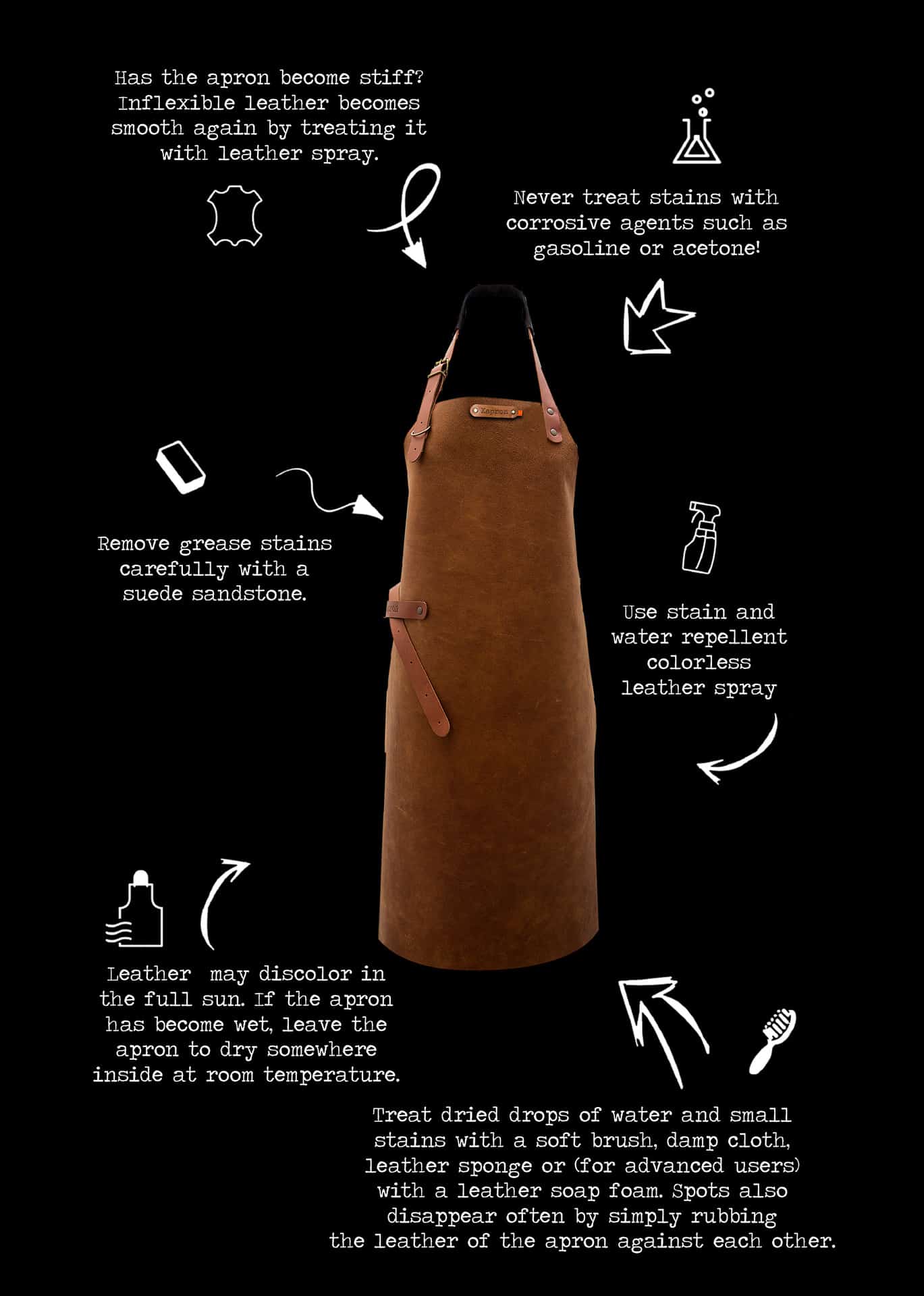 Delivery
We try our best to send your apron as quickly as possible. When ordering a personalization by using laser engraving on your apron, we first have to make a design manually on the computer. Therefore, allow 2 to 5 extra working days for delivery.
Return
Pay attention! It is not possible to return a personalized leather apron with name. The chance that we find someone with the same name or initials is of course very difficult ;)
Questions and advice
And … have you already been able to make a choice? Will it be a leather apron with name, initials, a special date that means a lot to you or a logo that you have designed yourself?
If you can't figure it out or would like some advice, please call or email us! We are happy to help you.